Back to Works
Hospitality heavyweights Solutions Leisure has teamed up with us again to bring a fiery new concept to Dubai. En Fuego has opened in The Avenues at Atlantis the Palm and has quickly become a popular go-to, hosting a fiesta like you've never seen before. The Client expressed a clear vision of creating a venue that blended exceptional culinary innovation with an intrinsic curation of entertainment and talent to deliver the ultimate social dining experience. Inspired by South America, we wanted to bring the soul, culture, food, music, passion, and craftsmanship of the continent to the people of Dubai. Items and artifacts have been sourced directly from the continent. Upon arrival, guests are immediately struck by a kaleidoscope of color and transported into a street scene where original doorways with cantilevered tiled porches form a winding corridor. Oversized ornate pots and pedestals decorate the multicolored walkway - reminiscent of the cobbled streets.
Client

Solutions Leisure

Location

Atlantis The Palm, Dubai, UAE

Service

Restaurants
Comprising a dining room, booths, carousel bar, and a tequila bar, the expansive but intimate space is filled with countless visual points that unfold in front of the eyes. Dynamic features are layered throughout the ceiling, from vintage neon signs and tuk-tuks to pinatas and hammocks whilst a central rotund - complete with a flamingo head chandelier, dominates the main dining area.
Each area becomes an enticing catalog of whimsical elements. As one explores further into the venue more layers are revealed. Everywhere is so beautifully animated that it creates a magical experience wherever you are in the space.
Fusing the rich, authentic history of South America with the continent's renowned fervent enjoyment of life and penchant for a party, En Fuego is a multi-sensory-driven, all-encompassing destination that breathes new life into social dining. The venue is fun and alive, bringing colourful energy to the region. It's authentic and possesses so much character that everyone will find their favourite moment. That is the beauty of the space.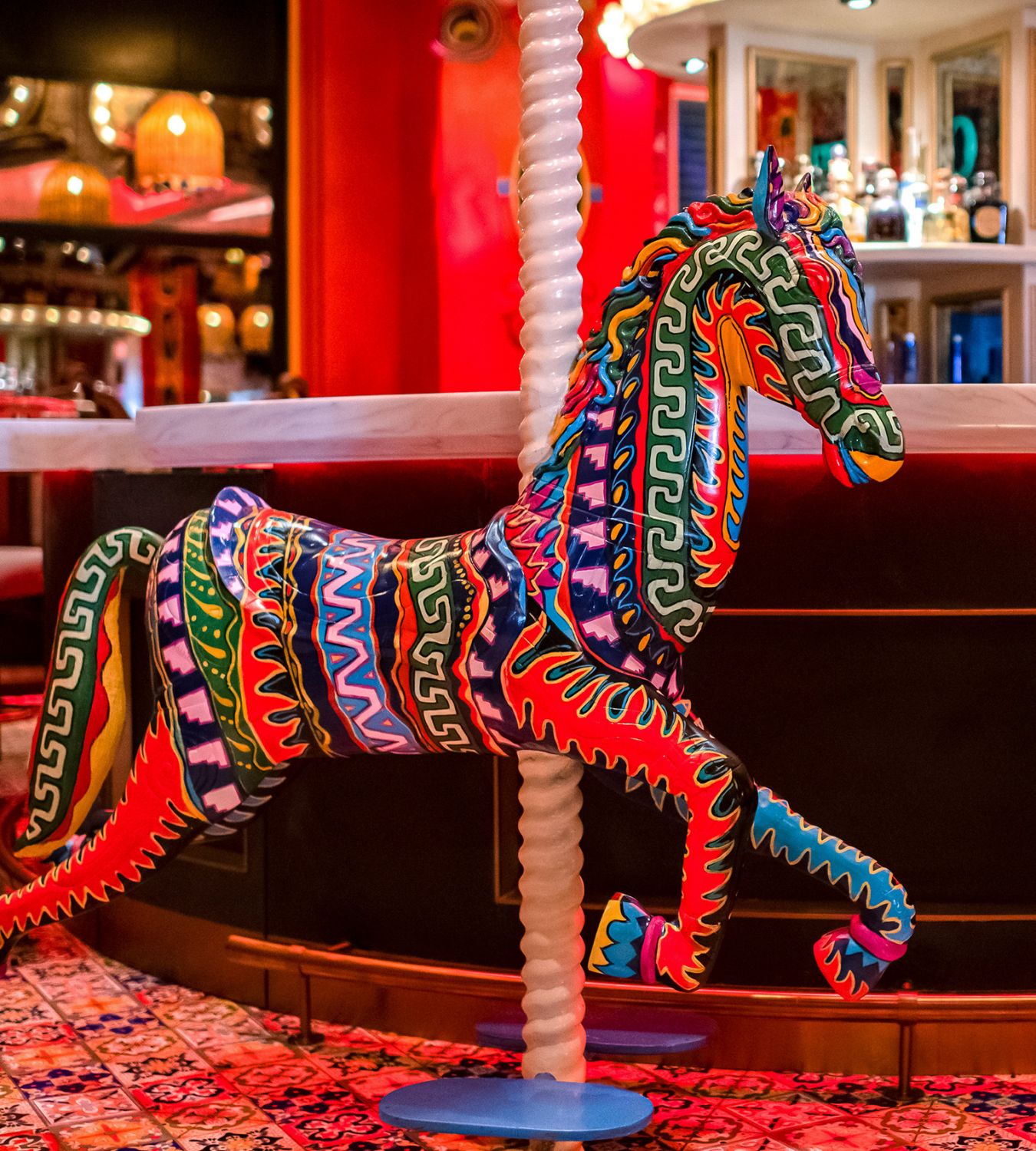 Dressed from top to bottom in authentic Colombian decor, each piece was sourced by the team at Bishop Design, who are known for creating some of the city's most stunning restaurants.