A Guide to Hospitality with I
Omar Shihab of BOCA
Jun 22, 2020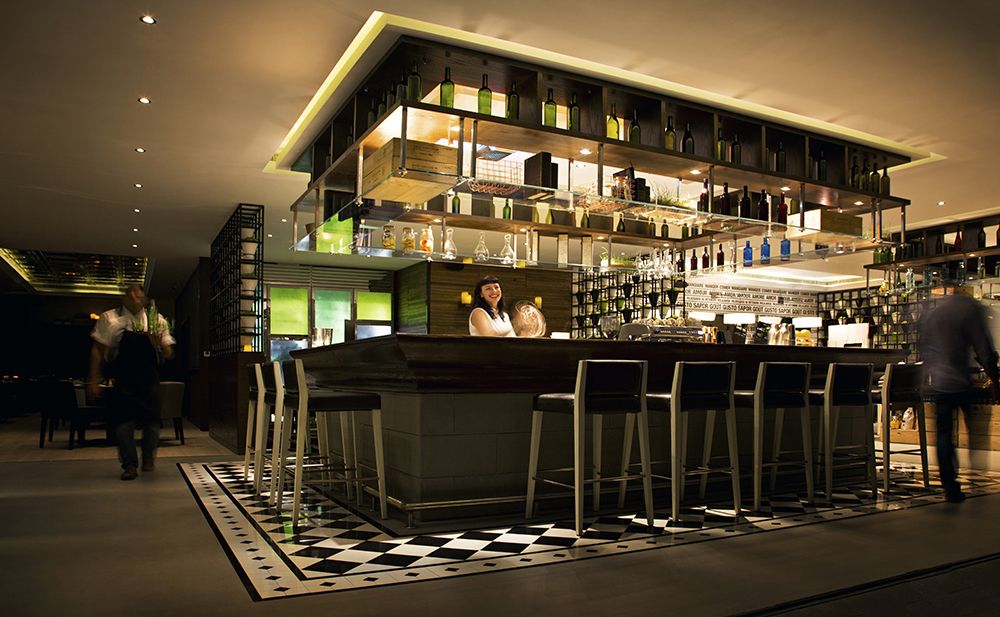 Boasting a supreme wealth of experience and passion when it comes to hospitality, Omar Shihab is the visionary mind behind one of the region's most adored restaurants. BOCA in DIFC, designed by Bishop Design by Paul Bishop, has earned itself a prominent position in the food and beverage industry. Our Public Relations Executive Selini Bishop receives the opportunity to speak with Omar to discover how he has not only built one of the most famed gastronomical landmarks in the UAE, but maintains this distinguished reputation through innovative cuisine, #toiletselfie worthy bathroom design and sustainable initiatives.
Take us back to your first day in hospitality. Where were you & what you were doing?
I was on a sabbatical year from my previous consulting job here in Dubai. I took on a few projects to keep me busy, one of them was helping a franchised high-end Italian restaurant restructure, re-launch and grow it's operation in the middle east.
At what point in your career did you become certain that you were going to open your own restaurant? Was there anything in particular that drove or inspired you to get to this point?
It was a series of events that led to that. Starting with that first engagement of re-evaluating the Italian café, I knew that there was a chance to introduce a home-grown concept that could fill the gap between fine dining and casual restaurants.
Now established for over 5 years, BOCA has gained a very loyal customer base. What would you say is BOCA's key ingredient that keeps people coming back?
The casualness of the experience, the guest recognition, the simple food, the airy bright dining areas that turn moody at night, the social island bar, and the olive tree terrace.
Known for its Mediterranean cuisine, what inspired you to choose this particular food offering?
Spanish influenced Mediterranean cuisine in a modern setting inspired by tapas bars from Barcelona was under-represented in the city and in DIFC. It also made the perfect platform to offer a friendly, casual yet refined dining experience for the community in the financial center.
Is there anything on BOCA's menu that sounds bizarre (but of course tastes amazing?)
We constantly think about environmental and food sustainability. From sourcing local fish and seafood from the Dubai Waterfront Fish Market to omitting single use plastic in our bars and kitchens. Over the last two years we have increased our focus on reducing food waste to an absolute minimum and highlight what we are doing within that space throughout our menus. One of the dishes that represent this ethos very well is our black seafood paella which uses all parts of the octopus including its head. By applying different cooking techniques to the head we can incorporate it easily into the dish and achieve zero waste when working with this valuable ingredient.
What is the most instagrammable dish on your menu?
The lobster rolls and the paellas.
Food and design come hand in hand in creating a beautiful dining experience. What is your favorite part about the restaurant design at BOCA?
There are many elements that are unique to BOCA's interiors: The mixed floor textures (distressed concrete, black and white marble and parquet), the island bar, the wine glasses wall, the ceiling art, the moss walls and the working wine cellar.
Where is the best spot to take a photo at the restaurant?
I love photos in the bright sunny terrace during the winter days, but some fabulous shots have also been taken in the cellar. The mirrors reflecting the moss walls in the toilet are hit #toiletseflies on the gram.
When you go out to dine as a customer, is there anything you find particularly annoying as a hospitality professional, and why?
Working in this industry has taught me to be a lot more compassionate and understanding when dining out. So much work has been done up to the point when a restaurant is operational, but that effort is rarely seen. Still, the dining experience can be stripped away with lazy service or below standard food. I am annoyed when I see less effort being put in sourcing ingredients locally or paying tribute to the local culture. I am annoyed when I see gimmicks that try to create the next instagrammable moment with no respect or value given to the product in hand. I am annoyed when a restaurant has given up its focus on offering good food, friendly service in a great environment for showmanship and senseless stunts.
BOCA prides itself on its sustainability initiatives. Have you been able to respect these ideologies in our unprecedented Covid-19 world? (If so, how?)
As value chains are disrupted, sourcing locally has never been more critical. We will continue to follow the path of finding seasonal local produce to incorporate in our menu. The UAE's Ministry of Food security is doing a lot of work advocating local sourcing, reducing waste and backing research to find solutions to the long-term issue of food security. Advances in agricultural sciences and technology are allowing more and more local farms to produce high quality organic and traditional produce. Minimizing waste and being conscious with our overall excess management is also critical to our survival. We have seen an increase in uptake for single use items for takeaway as we ramp up our delivery service in current times but all of this is work in progress and we will continue to look for friendlier options in the future.
Bishop Design say that experience and layer announce themselves as one interacts with the interior design of BOCA. This is achieved not only through intelligent space planning but also through the use and application of fresh innovative materials applied and exaggerated through the intricate design styling and finite details. Discover more about BOCA via their website here.
"A Guide to Hospitality with…" is an engaging conversation between interior designers Bishop Design and a selection of their esteemed hospitality Clients which highlights the importance of combining innovative cuisine, outstanding service and intelligent design to create successful destinations. Never miss our conversations on Facebook, Twitter, LinkedIn, Instagram and right here our design blog!
For better web experience, please use the website in portrait mode