A Guide to Hospitality with I
Trevor MacKenzie of Mango Tree
Jul 27, 2020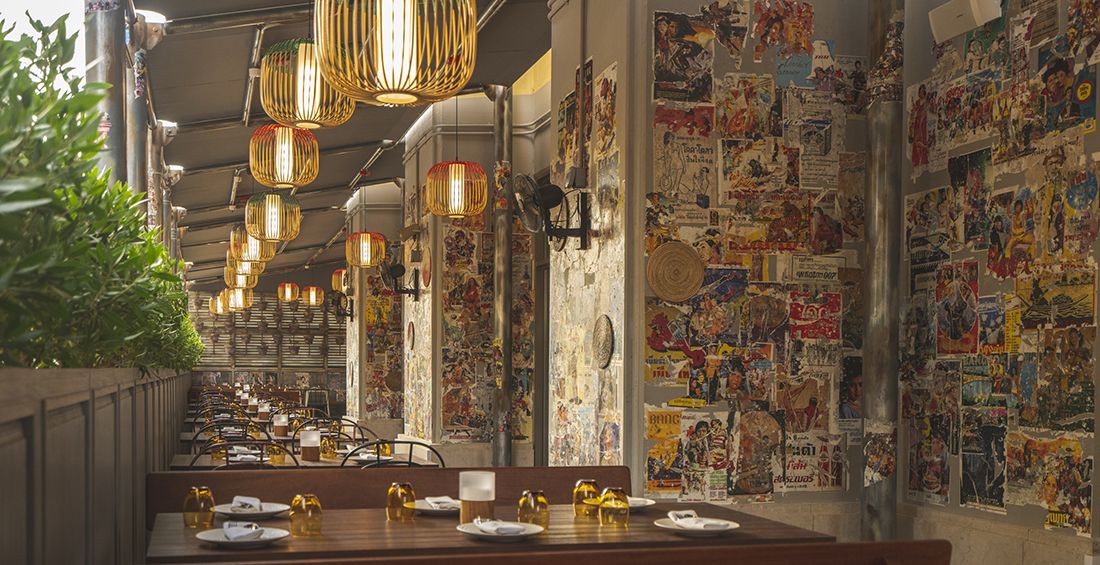 An "accidental restaurateur," but nevertheless a flawless one, Trevor MacKenzie has grafted his way through the ranks of the hospitality industry from a (unplanned) bartender position right through to his current capacity as Managing Partner of Exquisine System HK - the operators for for one of the greatest casual restaurant chains across the globe. Bishop Design by Paul Bishop has had the pleasure of working alongside Trevor in the design of Mango Tree Bistro in Jumeirah Beach Residence (JBR) in Dubai and our Public Relations Executive Selini Bishop recently caught up with the hospitality genius where they conversed about Thai culture, interiors that make you feel great and the beautiful meaning behind "Kin Kaew Rue Yang?"
Take us back to your first day in hospitality. Where were you & what you were doing?
Vancouver Canada, Moxie's Grill & Bar. I already had my own contracting company and I wanted to rent this mac daddy apartment overlooking the water in Vancouver, but at the time receivables for construction/contracting were above 50% (more like 60-70%) and when I asked the landlord if that was a problem in getting this apartment he informed me that "It may be" as he was also in the same business therefore he felt someone with a higher salary position would protect his investment. So I was quick to make him a deal – "if I go out and get a bartender or restaurant job and it's a certain amount of hours, will you rent me the apartment?" to which he replied "I'll give you a day." By 7pm that night I was able to call him back and let him know that I was just hired at Moxies Bar & Grill as a full-time bartender in the evenings. He was astonished at how fast I had done that. The rest is history. I started in opening a brand new restaurant so I learned about setup of outlets in my very first restaurant job. Within 2 weeks they were pushing me to be a waiter and 2 weeks later I was the official trainer of the restaurant.
At what point in your career did you become certain that you were going to open your own restaurant? Was there anything in particular that drove or inspired you to get to this point?
I think I was a meant for this industry. I like to have fun, I am friendly and I care about other people. When opportunity after opportunity kept coming in the industry, I was confident that I had made a mark for myself and knew one day I would own my own outlet. My climb in the restaurant business happened really over a 4 year span when I look back on it, and now I have spent another almost 20 years in franchising and business development opening Mango Tree's around the world. I would also have to say that I had a lot of good restaurant mentors who noticed my natural skill and were instrumental in pushing me to keep advancing. Most notably is my good friend Arthur Achiam who first hired me at that Moxie's and who recommended me for my Mango Tree partnership.
Mango Tree outlets can be enjoyed across the world, including destinations such as Japan, UK, China and the UAE. Is there something about the venue in Hilton the Walk, JBR that makes it particularly special for Dubai?
Previously Mango Tree at Souk Al Bahar was such a special place with "wow" fountain views, however at JBR our neighborhood vibe is what makes it so great! We are not-so-much seen as a special occasion dining at this location, moreover have grown into a neighborhood icon – we see people eating Thai cuisine more often nowadays and the clientele knows their Thai food so it offers us the chance to offer more innovative offerings that you see in Thai restaurants in Bangkok that cater to millennials and their families.
Vegan diners are in safe hands at Mango Tree given your mouth-watering vegetarian and vegan offerings. Do you think it's important for restaurant owners to have dedicated plant-based menus?
In Thai culture its always important to make people feel comfortable and welcome through your belly. First thing any Thai will ask when meeting you is "Kin Kaew Rue Yang?"  meaning "Have you eaten yet?" Eating is Thailand's passion and national pastime. Therefore, having these menus allows every diner to feel like they are welcome – if Mom is vegan and Dad wants to eat meat then we can cater for that – it doesn't mean one has to compromise to eat dinner. Plus, overall, corporately we are always expanding our sustainability goals and objectives so if we can have 10-20% of our sales Vegetarian and Vegan then we are doing our part to help the Earth as that would significantly reduce our restaurants impact on the environment! That is what inspires me to keep developing new vegetarian and vegan menus and be an early mover as the world continues to shift its eating habits whether for health or environmental reasons!
Is there anything on Mango Tree's menu that sounds bizarre (but of course tastes amazing?)
We had a few things but decided to take them out as they weren't fully understood. However, recently we launched a yellow curry crab flatbread – which "wow's" everyone! Mango Tree has become famous for its Yellow Curry Powder Crab dish and because we have the flatbreads in Dubai we decided to try it! It has exceed my expectations and the first time I have ever seen crab work on a pizza so well!!
What is the most instagrammable dish on your menu?
Phad Thai, Phad Thai, Phad Thai
Themed restaurants are relatively common in this region, yet Mango Tree's interior is more subtle in its representation of Thai culture. Is there a reason behind this design approach?
Every Mango Tree is built a bit different! We look at the local environment, who our customer will be, what is the tier of Mango Tree that we are doing and how can we build a place that is comfortable, relaxing and make you want to feel at home – therefore we move away from the cliché of Thai interior designs you usually see and connect to our customers with the small accents but ones that are uniquely Thai – for example in JBR we have old Thai movie posters to give a retro Thai feel and a few other Thai signages in the bar – however we want warmth and friendliness over the cliché of Thai silk, Thai artifacts and dark wood that these restaurants have essentially been known for. I believe the design approach offers the customers a refreshing take and shows how Thailand is evolving just like the rest of the world – it also makes business sense in that very themed restaurants tend to be visited less often and reserved for special occasion or when you're in the mood, whereas for us it's about being everyday Thai, everyday welcoming you, and everyday making you feel great! 
Where is the best spot to take a photo at the restaurant?
Most people like the bar area and outside with the posters because it's something different and definitely something they have never seen in a Thai restaurant.
When you go out to dine as a customer, is there anything you find particularly annoying as a hospitality professional, and why?
Unwelcoming service – and this can start from the minute I walk in to the end. I find most restaurants do well up until your order is placed then after that it tends to be less attentive and caring – would you do that to someone you invited over to your house? Of course not, you take care of them right up until they leave with the same amount of attention and because this type of hospitality is in my blood I feel its natural and really question when it's not there - so simple yet seems so hard to have everyone deliver that to the guest. The other is bad food or substandard food creations, portions, taste for what you pay or essential (I say) value for money – it needs to be balanced between all the factors.
From live cooking shows to #CookingAtHome guides, it was humbling to see Mango Tree devote so much support to customers during the pandemic. What can diners expect next as we head into the post-Covid world of dining?
More of us connecting to the community. It was our goal before Covid and a result of Covid I have had to convince my partners around the world less about doing this. All of our partners are therefore now looking for ways to help farmers, fisherman, health up the menus, touch the community in whatever way they can via schools, associations, cooking demos, education sessions about Thai food and most of all going  the extra mile for each customer. This is still a core foundation of how Mango Tree was born and became popular in the first place. Covid helped many realize how many loyal customers we have and that once you create loyal customers they will support you even when times are tough. Customers all have a choice and its human nature to go to places that make you feel good so back to basics - go the extra mile, make people feel good and you won't have to stress at night how you are going to keep going!
Bishop Design say that a hybrid of "refined meets street" is elevated through Mango Tree's inherent design and styling, all achieved through an eclectic mix of furniture, lighting elements and finishes that define the essence of its origin. Discover more about Mango Tree via their Instagram here.  
"A Guide to Hospitality with…" is an engaging conversation between interior designers Bishop Design and a selection of their esteemed hospitality Clients which highlights the importance of combining innovative cuisine, outstanding service and intelligent design to create successful destinations. Never miss our conversations on Facebook, Twitter, LinkedIn, Instagram and right here our design blog!
For better web experience, please use the website in portrait mode