Valentine's Day |
Best places to celebrate in Dubai
Feb 7, 2023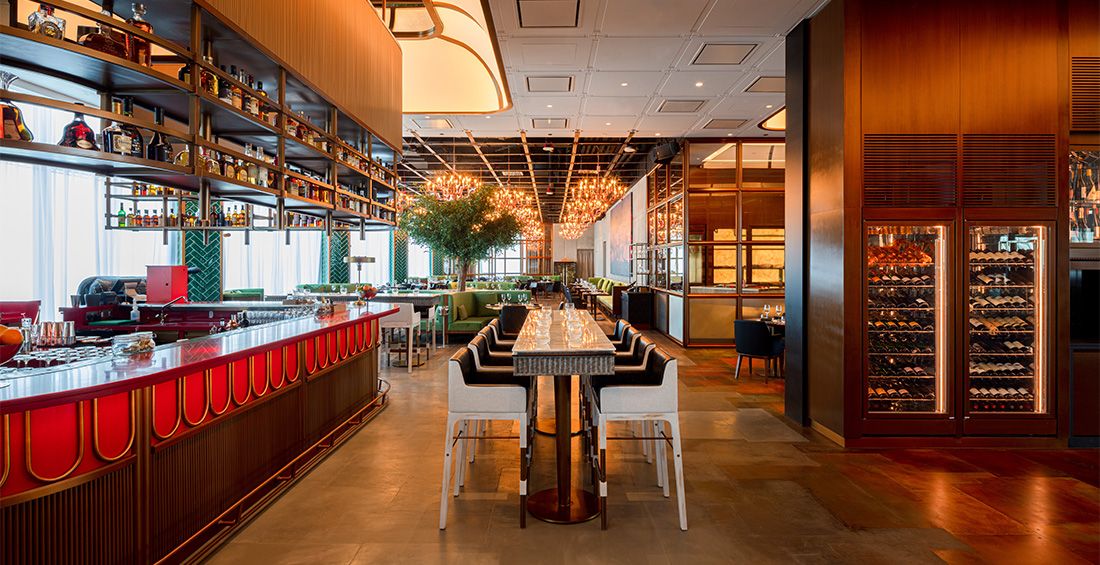 Whether you are heading out for a first date, or celebrating the occasion with your significant other, our team have handpicked a number of exquisite options for you this Valentine's Day.

From intimate speakeasies to fiery entertainment shows, and everything in between.
 


First on our list is the legendary Wavehouse. Senior Interior Designer Dylan recommends spending the day here, especially for a first date. You're spoilt for choice with infinite fun activities right at your fingertips. The place offers bowling, arcades, and if you're not the type to feel embarrassed easily, you could even attempt surfing on the wave machine! Don't worry, they will still like you if you make a fool of yourself (well, maybe don't take our word for it.) The industrial surf shack vibes will make you want to pull up a seat in the bar, restaurant, or terrace, and spend the rest of your day ordering bar bites, beers, and deliberating over who is the true racing car champion.
 


Selini, Global PR & Marketing Manager, likes the idea of heading to SLS Hotel this Valentine's Day. Here's why: "I'd recommend starting the night at Carna. Head to the bar first and grab a drink (if this were my date, we'd be drinking Negroni's) before sitting down for dinner. Nothing is more romantic than sharing a meal, so place your order to be served in the middle of the table. Some dishes I love are the Tomato Tartare and Artichoke Tart to start, followed by the Bistecca Alla Fiorentina for main. Wash down with whatever cocktails the staff recommend for you. Calories don't count on Valentine's Day so don't even think twice about ordering the Chocolate Fondant for dessert. Then depending on what you like, you could 1) Wind down with a drink at Smoke + Mirrors (after you find the secret entrance). It's an intimate setting, allowing you to converse the night away while overlooking stunning views of Dubai. Or, 2) If you feel like something more upbeat, take the elevator up to Privilege on the 75th floor. Here you can dance to your hearts content, losing yourself in the DJ's rhythm and maybe even indulging in a shot or two of tequila along the way. Whichever type of date you prefer, SLS will guarantee its one to remember."
 


Wendie, Interior Design Intern, thinks you should take a first date to En Fuego."I would have to say En Fuego because I'm South American and it's the best place for a Latin experience! There are many places in Dubai that offer this type of cuisine, but nowhere does it quite like En Fuego. The combination of awing interiors (including a retro car hanging from the ceiling) and the service make for a unique date night location. And the venue itself just has a great vibe. It's fun, welcoming, and dynamic (just like my culture!) There is always something happening and endless intriguing details to marvel at, so there will never be a dull moment." She's right. With an enchanting cocktail list, high-octane entertainment, and mouthwatering culinary creations, every second spent at En Fuego is full of joy and wonder.
 


What could be more romantic than an orchestra serenading you over dinner? Our PR & Marketing Executive Sharnie says "I love fine dining, especially when combined with live music. So, it is a no brainer for me. I would spend the evening at Belcanto. The intimate setting is perfect for a romantic date night. The food is nothing short of incredible, and the entertainment options are endless, featuring a live band, pianist, and singers, plus mesmerizing projections on the walls. Let's not forget about the service - it's nothing less than exceptional. Good food is important, but great service is what can set a restaurant apart. Belcanto has it all, making it my restaurant of choice this Valentine's Day. To bring the date to an end, I would finish with a night cap on Eden Terrace - the cherry on top of an unforgettable experience! Nothing says romance like sitting under the stars with a breathtaking view of the iconic Burj Khalifa."


SUMMARY 
 
There you have it. Four amazing destinations, three prime city locations - picked by us. Let us know if you visit.

Love looks different for everybody. For us it looks like this: Love what you do, create what you love, and design a life you're proud of. Happy Valentine's Day.
For better web experience, please use the website in portrait mode